The beauty and diversity of the Caribbean region is a result of geological and atmospheric processes that also pose serious threats to the large population within reach of seismic faults, hurricanes tracks, or sea-level change. The capacity to understand, prepare for, adapt to, and in some cases predict these natural hazards requires Earth observations on both large and small scales.
The Continuously Operating Caribbean GPS Observational Network (COCONet) project was funded by the National Science Foundation (NSF) with the aim of developing a large-scale geodetic and atmospheric infrastructure in the Caribbean that will form the backbone for a broad range of geoscience and atmospheric investigations and enable research on process-oriented science questions with direct relevance to geohazards.
Latest News and Upcoming Events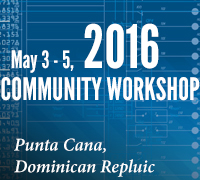 2016 Community Workshop: COCONet - Results, Sustainability,
and Capacity Building
May 3-5, 2016
Read more »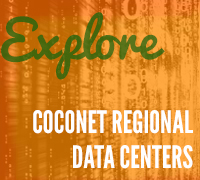 Explore COCONet data through Regional Data Centers
More »
COCONet Map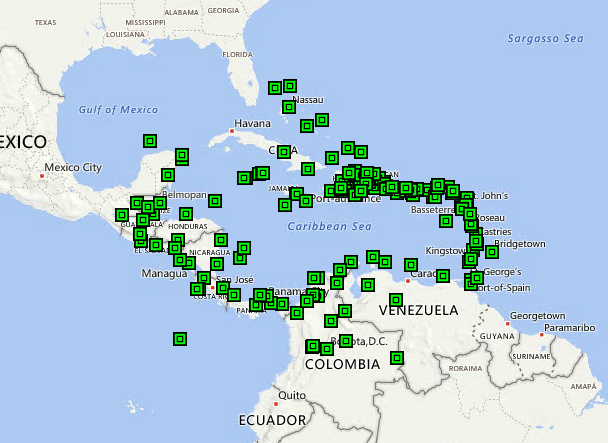 The Network
COCONet is establishing a network of at least 46 new continuous Global Positioning System (cGPS) and meteorology stations, refurbishing an additional 21 stations, and archiving data from at least 61 cGPS stations that are already or will soon be in operation. As of August 2014, engineering personnel have completed site reconnaissance at 83 locations, submitted land use permits for 77 sites, received permits for 75 sites, and currently have 61 cGPS stations installed
COCONet provides raw GPS data, GPS-PWV, surface meteorology measurements, time series of daily positions, as well as a station velocity field to support a broad range of geoscience investigations. All the new and refurbished stations have sub-daily data latency. Atmospheric data products are distributed to researchers using both the Unidata Local Data Manager (LDM) and other web Internet distribution systems. Geodetic data products are available from the UNAVCO public data archive and potential regional data partners in the Caribbean. All of the participants in the project have committed to a free and open data policy.

Quick Data Access:
Science Snapshots and Highlights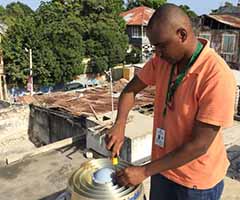 Station Recovery in Haiti
29 August 2016. From July 10th through July 17th, Renaldo Sauveur and Dr. Steeve Symithe from the Central National de I'Information Géo-Spatiale (CNIGS) and
Read more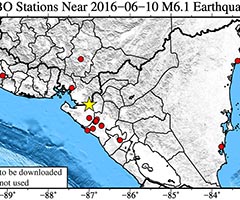 Data Event Response to the 9 June 2016 Mw 6.1 Earthquake 17km E of Puerto Morazan, Nicaragua
22 June 2016. In response to the Mw6.1 earthquake 17km E of Puerto Morazán, Nicaragua on 2016-06-10, UNAVCO downloaded high-rate one-sample-per-second (1-sps or 1 Hz) data from nearby GPS
Read more
Science Snapshot: Pinpointing Slip and Earthquake Location with the Guatemalan Geodetic Network
14 June 2016. The 7 November 2012 moment magnitude 7.4 Champerico (Guatemala) earthquake is among a growing number of subduction zone events observed by a local geodetic network.
Read more
---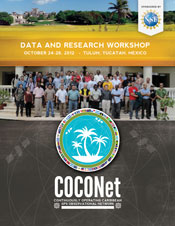 Third Workshop Report
Science and Data Workshop Report »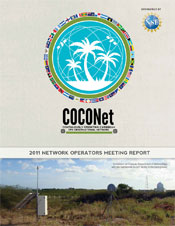 Second Workshop Report
Network Operators Meeting Report »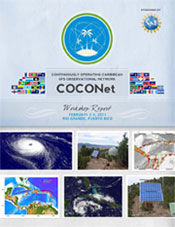 First Workshop Report
Español » | Français » | English »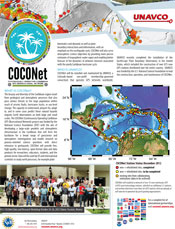 Project Information Sheet
PDF »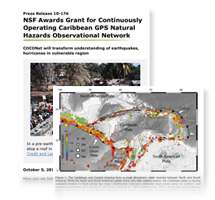 Proposal and NSF
announcement »
---